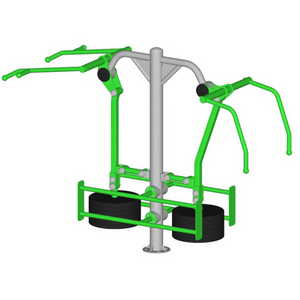 Wheelchair Chest Press/ Lat Pull Combo
Chest Press
Muscle Focus: Chest, Triceps and Shoulders
Training: The Chest Press provides optimal range of motion while you press out and lift the attached weight*. 
Lat Pull Down
Muscle Focus: Back, Shoulders and Biceps
Training: Pull the upper bar towards your body using the attached weight* as resistance. 
 *Attached weight does not make contact with ground, avoiding any crush hazard. 
Item SKU: DC