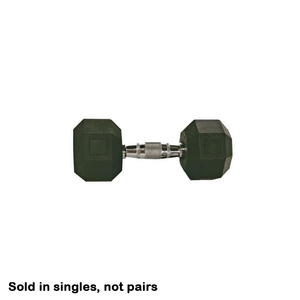 Rubber Hex Dumbbell 12 Lbs.
This versatile rubber encased hex (6-sided) dumbbell is designed for home gym use, but can be used in a variety of settings. Solid, anti-roll heads are securely affixed to all steel, chrome, contoured handles via a friction weld.  Their durable rubber surface dramatically reduces noise, while helping to protect floors and equipment.  

Handle Length: 4.25"
Distance between heads: 5.20"
Sold in single dumbbell, not pairs.
Item SKU: HD-012R