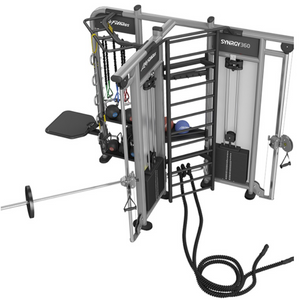 LIFE FITNESS SYNRGY360
The groundbreaking SYNRGY360 system creates a fun, inviting and meaningful workout experience for all exercisers. The Life Fitness SYNRGY360 concept's modular design can be customized to best reflect your training programs and objectives, and provide your exercisers with the motivational resources they want and need. Incorporate Multi-Jungles with a SYNRGY360 system to offer even more exciting small group training options.
*SYNRGY360 comes in 4 variations:
SYNRGY360T: The T offers two unique training spaces that are generally placed against a wall.
SYNRGY360XL: The XL offers eight unique training spaces, including a 10-handle monkey bar zone and two dedicated areas for suspension training.
SYNRGY360XM: The XM offers six unique training spaces, including a seven-handle monkey bar zone.
SYNRGY360XS: The XS offers four unique training spaces for a space-conscious exercise hub.
Specifications: 
Belts and Pulleys: 7 x 19 strand construction, lubricated, nylon-coated cable meets U.S. millitary specifications; 4-1/2" (11cm) and 6" (15 cm) diameter fiberglass-impregnated nylon pulleys feature sealed bearings
Frame Description:

 11-gauge steel frame ensures maximum structural integrity; Each frame receives an electrostatic powder coat finish which ensures maximum adhesion and durability

Shrouds: Full front (optional) and back shrouds and pulley covers
Weight Plates and Guide Rods:

Solid-steel weight plates; Top weight plate is fitted with self-lubricating bushings; 7/16" (11mm) diameter weight selector pin magnetically locks in place and is connected to stack to prevent loss; Incremental weight system is integrated on top plate.

Item SKU: 

FXTT-VCV (Versa-Cable-Versa)

FXTT

-CVV (Cable-Versa-Versa)

FXTT

-VVC (Versa-Versa-Cable)

FXTT

-VCC (Versa-Cable-Cable )

FXTT

-VVV (Versa-Versa-Versa )