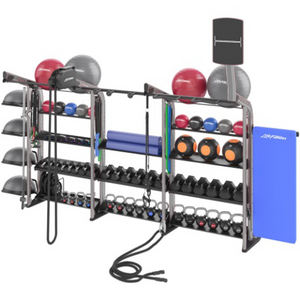 LIFE FITNESS SYNRGY180
The SYNRGY180 training system saves space by doubling as a wall-adjacent accessory storage unit and functional training rig.  It's designed for small group training—instructor led or not—to fit any exerciser's fitness level or coach's programming needs.  It's a modular system that can be custom-configured as a simple single-bay training rig or expanded to be a full room multi-bay training rig with a variety of HIIT elements.
*Frame Options:  Rope Pull, Wall Ball Target, Boxing Connector
*Side Storage Options: Dual Rail, Accessory, BOSU, Stability Ball, Workout Board, Power Blocks Pro 50, Mat Storage, Foam Roller Storage. 
Specifications: 
1-Bay Dimensions: 46.5" D  x 59" W  x 94" H

2-Bay Dimensions: 

 46.5" D x 107.5" W x 94" H 

3-Bay Dimensions: 46.5" D x 106.5" W x 94" H
Item SKU: 
S180-CORE (SYNRGY180 CORE )